New Meeting Time 7:30 PM!
May 18, 2014 7:30 PM

The Little Theater, 12420 Santa Monica Blvd, Los Angeles, CA 90025

Directions to The Little Theater
Website of The Little Theater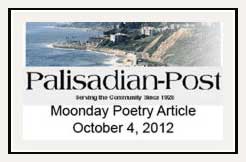 Moonday West is a reading series which has its roots on the West Side of Los Angeles. When a reading at the former Barnes & Noble at the Westside Pavilion, run by poet/dramatist, RG Cantalupo, was suddenly discontinued by management in 2002, poet Alice Pero resurrected a Phoenix from the ashes. With the help of RG and poet, Anne Silver, Moonday began its life at Seattle's Best on Montana Avenue in Santa Monica, moved briefly to another coffee shop, then spent eight wonderful years at Village Books in the Pacific Palisades with the addition of Lois P. Jones as co-producer in 2006. When Village Books closed its doors, Moonday found a new home at the lovely Aldersgate Retreat House/Buerge Chapel, also in the Palisades with a very successful run for two more years. Another Moonday series (Moonday East) was established in 2011 and ran until 2013 at The Flintridge Bookstore in La Canada.
Known around the literary world for featuring some of the finest in the national and world poetry community, as well as having a reputation for high quality open readers, Moonday moves forward with an unconquerable spirit. We are now coming "home" to RG Cantalupo's "The Little Theater", which he has generously donated to Moonday on the THIRD SUNDAY OF THE MONTH from 4-6 pm.
What you've achieved, you and Lois, has been nothing short of remarkable. You've generously given a richness and depth to the city's culture (for) so many people—poets and listeners—and you've done it with grace and grit. These series are never easy to sustain, hey? But you guys make it look as though they are…Moonday in particular.
— William O'Daly, poet/Neruda translator
The Moonday series stands out from the average open mic series due to the depth of its community roots, the talent of its participants, and the overall fun of the experience. I've read in the series several times, and each time was a great pleasure.

---Tony Barnstone, Albert Upton Professor and Chair of English Whittier College
The Little Theater
12420 Santa Monica Blvd, Los Angeles, CA 90025
Directions

Sign up for open reading by email or right before the reading. Reading starts at 7:30 pm.

email: pero@earthlink.net