On the Island of the Fire-Eaters
we're waiting to be struck by lightning
in this moment when the plot stops
making sensethe monster needs life
and it's dark. Some people say chaos,
others seed, clay or water. It was not
quiet, but calm as a cat and a vial of acid
in a closed box. Inside the reptile's mouth
venom, teeth like guardrails down its throat.
Lightning spreads across water. In a storm,
never raise an umbrella. A man standing
on one leg has half the chance
of being struck by electricity as a man
on both feet. A man on both feet has half
the chance of a sheep. It's best to keep away
from trees and radios. The safest place:
the bed. AAR is against all risks or average
annual rainfall. A thousand storms have left
their autographs on the copper of the Empire
State Building. Don't get too close,
should have been the first sentence in the first
book. In the one-hundredth of a second
for the bolt to travel from cloud to earth,
we realize we aren't grounded, lacking steel
we return to the beginning. The first picture
taken in our kitchen, so many dirty dishes.
The batter spills across the counter. We wait
to eat, to hold everything in our hands. Struck,
we are, not yet by lightfire and brimstone
far from our minds. The great conflagration
at the top of the mountain, so many pages away.

first published by Free Lunch, No. 37, Spring 2007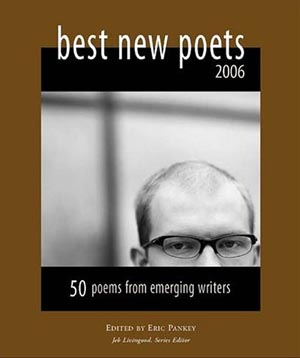 You can find out more information about the
"best new poets 2006" Anthology series,
edited by Jeb Livingood, by going to
www.bestnewpoets.org or by going to Amazon.com