Late Lunch
Mid-afternoon,




like birds at dawn, a chorus of Latin voices




bursts from a carwash radio below—




the drum, light and steady, a lid




to hold in the boiling mass




of piano, brass, accordion and vocal chant,




the beat




of joy and grief.





How does my body




still perform its carnival of tricks?




The placing of an egg in cup, of toast on plate,




against the growl of cars, the palm leaves' clatter?




How late it is, how late.




The music




tugs and rends




the pattern of my day—





the carwash vacuums' unrelenting




hum,




the variance of pitch




in sync with users' movements,




the swish of water.





Across the street


a

quinceañera's

starting up. By dark,


my living room's delirious with song.


I wash my dishes to their

cumpleaños

cheers,


the stall,




the surging of the drum,




the hush of traffic,




the waltz of butterflies.





—Charlotte Innes

Published in

American Diversity Report


for Women's History Month 2009


Inviting a Friend to Dinner
(after Ben Jonson)


When you are next in town, I would be honored, sir,
if you would dine with me. I have a small place,
a little shabby perhaps, but cosy. The lamps
glow soft and warm, and with the curtains drawn,
you'd think you were in some New York or Paris bistro.

I would serve you something humble first,
home-made hummus, say, with warmed bread,
salad from the local farmer's market, tasty
green beans, roast chicken, with peach
and honey sauce, rice—and wine, of course.

For dessert, I would offer my apple pie with cream.
And I would have Schubert playing, something quiet and sweet,
with a touch of sadness, to remind us of all life's delicacies.
And I could read to you, or sing, or we could both sing,
or you could recite poems over cognac or coffee or tea.

And we could talk, of extraordinary or ordinary things.
For there is something to be said for the quiet, daily ritual
of breaking bread, for the discussion a meal engenders—
nothing fancy, neither food nor talk, just the old
stories, the old good-natured teasing between friends.

I don't think Horace or Homer and his Odysseus
would disagree that at such moments people
are at their best, that spirited conversation over lunch,
or dinner or tea, or even breakfast, may be the essence
of humanity. Sir, let's put this theory to the test.

—Charlotte Innes


"Inviting a Friend to Dinner" won The 2007 Chaffin Award for Poetry and appeared in The Chaffin Journal 2007.
May
The lavender's violence is drying out.
Huge waxy magnolias open wide,
languid, like giant endives deciding
it's uncool to be so tightly wound.

Tonight, a come-hither breeze is jilting
the real world. It's whispering, you will.
A car screeches rubber in the street until
the street is smoking, and the smoke livid

unquiet. Boys are barking and yodeling,
they are exhaling light. The befogged car
floats and chokes for joy. There's no end
to this unwary month's adjectival riot.
Published in The Eleventh Muse 2007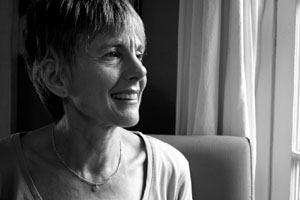 photo credit: Shweta Chanda